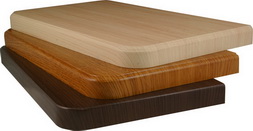 Inside window stills made of MDF-board that we offer, are made of modern waterproof MDF boards. MDF boards are material, which is forming through moulding the mass consisted of wood fibers and organic compounds linking and hardening. Moulding takes place under high pressure and temperature . In result formed material has homogeneous structure and high density in the whole section, extremely resistant to moisture and to temperature changes.
MDF boards are used while producing MDF window stills covered with high quality acrylic paints or plastic-coated. Thanks to high quality of the used materials, our MDF window stills are characterized by aesthetic handiwork, colour durability and resistance to moisture and temperature changes. Smooth surface facilitates the tending actions.
These window stills can be installed with wooden, aluminum and PCV windows.