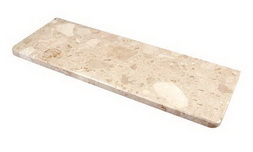 Inside window stills made of agglomarble
Agglamorable window stills are made of artificial stone produced from marble's splinters combined with special polyester resins. Then agglomarble is cutted to adecuate dimensions and polish to gloss, so it's very much alike natural marbles. The agglomarble's structure is 95% marble aggregate and 5 % polyester resin.

Inside Agglamorable window stills made of synthetic stone are very durable and thanks to the smooth surface it's very easy to keep them clean. In addition polish surface cause the glamorous look and the various colour palette enables adjusting window stills to the interior design. Additional advantage is the resistance to UV rays, moisture, chemicals, and to grinding.
Here are some examples of Agglamorable window stills from our wide offer.