Our company is Skylight Premium roof windows' authorized distributor. Skylight Premium roof window is protected with patent issued by Patent Office the Republic of Poland with number PAT 206424 and with patent issued by European Patent Office with number 2003263.

Skylight roof windows are modern produced by Dobroplast company, one of the greatest firms in PCV windows and doors' sector. They are characterized by excellent thermal and acoustic isolation, high water-tightness and resistance to raised moisture.
Skylight Premium windows are rotary-tilting which means they can be opened in two positions:
hooper-type which enables opening window in position from 0o to 30o,
position enables cleaining the inside glass when the casement is inverted by 120 o.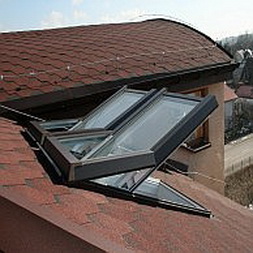 The innovative and patented fittings system guarantees security and stability of the adjusted casement in hooper-type, open and rotary position.

The characteristic feature favouring Skylight roof windows from the range of competitive products is the wide range of frame's colours on inside. In result we don't have to design the room to match the roof window but we choose roof window so it can match the interior design. Exceptional types of veneers are: golden oak, nut, mahogany and others.

The colour of the window's frame on outsider is available in two gradients (brown and grey).
Flashings protect the fittings against adverse effects of the atmospheric factors. The colour of flashing can be adjusted to the customer's requests.
Profile description:
glass packet: outside hardened glass 4 mm, aluminum frame, argon filling, insulating inside glass, packet's thermal transmittance Uw=1,0 w/m2,
flashings, aluminum ironplate 0,7mm with polyester paint finish, hardness H44, genre 3105,
windows frames' reinforcements are made of galvanished steel, which thickness is 1,5 mm,
quadrupal gaskets system made of TPG materials resistant to low temperature and UV rays,
PVC profiles in Avantgarde 5000, the whole window's thermal transmittance Uw= 1,5 W/m2K,
powder-coated door handle is made of aluminum and zinc alloys.
We offer you also special type of Skylight roof window. It's frame and casement where insulted with foamed polystyrene.

Roof windows should be installed on a proper height from the floor, so they could be the most reliable while providing lighting to the room. The brightest light is when the window is installed as high as possible. To reconcile this rule with building laws and functionality of exploitation, the roof window should be installed in the way when lower ridge is situated on height from 100 to 125 cm from the floor. Keeping this rule in mind the access to the door handle placed in the lower element of the casement can be very easy. Therefore the exploitation of the whole roof window is simple.