Revolutionary system PVC window Encore is recommended especially to energy-saving and to passive construction industry. It's four-celled system with installation depth of 80 mm (standard depth is 70 mm) . In addition, two cells in frame and two in the casement window are having foam thermal inserts. This innovative plastic windows profiles' construction cause that the thermal transmittance of the whole window is only Uw= 0,77 W/m2K and because of that the window meets the requirements of the passive construction industry. There's the possibility to use the three-glassed package of 48 mm width with thermal transmittance of U=0,5. With this glassed package the whole window can be reckoned to the highest energy-saving class.

The usage of the wider profile, frame's and casement's filling with thermal foam it's not only a very good thermal isolation but also an excellent acoustic protection against noise from outside.
Four-celled window profile is made of the high quality PVC, which doesn't contain lead. It's with great meaning keeping in mind the production's influence to the natural environment. The profile's construction is reinforced inside one of cells by sections. It guarantees stability of the whole construction and it makes the window joinery ENCORE can function correctly through many decades. The high of used quality polyvinyl chloride (PCV) causes the profile stays perfectly white through many years. The frame and casement are available in many colours. Bright white is the most likely ordered colour, but customer has a wide range of colours to choose from RAL palette and from wood-based colours. Delicate shape of angular profile causes that the window fits to every house and flat.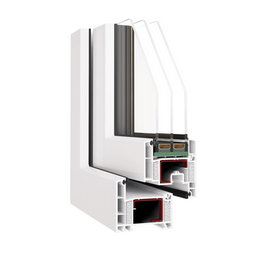 Plastic Windows in ENCORE system provide opportunities to use a wide range of insulating glass of width from 24 to 48 mm. The window's casements have the highest glazing surface, which was achieved by lowering the profile's height. It enables better bend lightning of the inside of the building.
Ideal isolation parameters are combined with high quality of additional equipping such as lock of the incorrect location of the lever handle, gradual pan, microventilation, filling of the bottom fitting groove, fittings famous firm, gaskets available in grey and black colour.
Perfect relation of quality and technical parameters to the price of ENCORE window and maximal reduction energy loss can satisfy every customer.
Choose leaflet for more information.