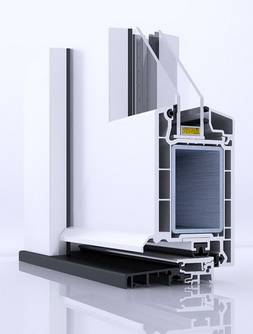 Doors in Perfectline system are available in two types: opening to the indoor and to the outdoor. Doors Veka characterize great resistance to influence of atmospheric factors and are easy to tend. With PCV profiles they do not need conservation (painting). Therefore doors

Perfectline will serve for many years. The doors' frame is made of 5-celled profile and casement is made of 3-celled profile. The doorsill construction guarantees ideal thermal isolation in bottom part of the construction. And the double gaskets reduce warmth loss and eliminate draughts. Flexible hiding profile covers assembly dowels. Steel strengthening of the profiles assure optimal doors' stability. Aluminum drip nose transfers water from rain over wings opening to indoor and is decorative over casement opening to outdoor. In doors
Perfecline are applied tips' famous company Roto and windows of thermal permeability U=1,1 W/m2k.