Blinds and roller shutters are without a doubt the most popular products, which protect against excessive sun exposure in our houses or flats. They are used in our workplaces, public buildings, trading and gastronomic places.

We would like to encourage you to get familiar with our wide blinds and roller blinds offer as well as with other products of our suppliers.

Horizontal blinds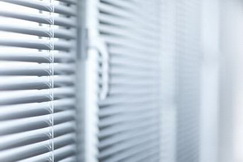 Horizontal blinds are installed inside the building. They fall to the most popular devices being sunshades. The installation of horizontal blinds is possible with every type of window. Upper panel, mask mechanism made of steel it's designed to pulling blinds up. It's fixed to upper glazing bead. Particular fins are made of painted aluminum and are laid on both sides by strand, which end is fixed to lower glazing bead. Steering and pulling is possibile with one chain mechanism.

The horizontal blinds we install are safe and durable. They keep their shape and colour through many years. They reflect 98% warmth of rays of light. Simple installation made in short period will result in the instant change of how your windows look.
Mosquito-nets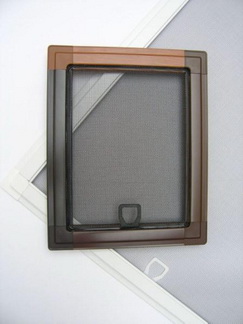 Mosquito-nets are the best protection against annoying insects and bugs. They can be installed not only in windows but also in doors. Mosquito-nets enable airing room during sweltering days and nights and in the same time they protect against insects. Using mosquito-net you can simply give up using insecticides harmful to human health. The mosquito-nets' dimension can be adjusted to every window or door.

Outside roller blinds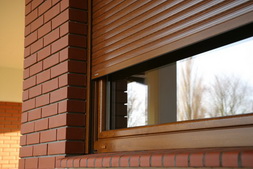 Outside roller blinds are made of aluminum and are installed to rise the level of security in house or in flat. They also improve the thermal isolation in building. In summer they restrain sun exposure in room and in winter they prevent warmth loss. Outside roller blinds protect against the noise and are additional protection against burglary. They are made of high quality aluminum alloy. They guarantee high resistance, density and almost noiseless lowering and rolling. Such outside roller blinds' elements like the case to rolling, roller shutter curtain and tracks, can be painted in any colour from RAL palette. Steering can be manual or by means of electric motor.

Inside roller blinds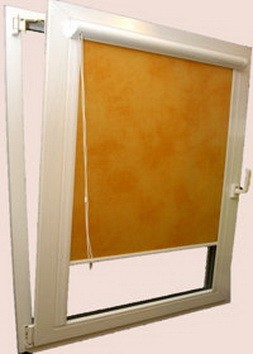 Textiles inside roller blinds are second most popular product right after horizontal blinds. They're available in many different variations of handiwork and in terms of the large scale of colours of used fabrics. We offer full variety of roller blinds in cassettes, Roman shades and many more. Textiles roller blinds are perfect alternative to traditional curtains. Textile roller blinds can be made of smooth fabrics, jacquard, less or more transparent.

Roller blinds are installed directly on glazing bead or in the window's niche. Raising and lowering is possible by means of chain. It's very easy to stop roller blinds in every position. The roller blinds are lead by strands or guide ledges installed to side glazing beads and the roller blinds are rolling up to aluminum cassettes.