Imperial with thermal separator (so called warm aluminum)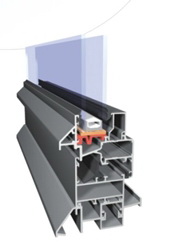 Ecoline profiles system is without thermal isolation (so called cold aluminum), intended to be used to the constructions of solid inside cells as well as of windows and doors inside buildings. With this system are also constructed partition wall segments in public buildings and in industrial plants. These aluminum windows are also used in office's areas design. Econoline system can be embedded into partition walls, made of aluminum Econoline segments. This system's profiles can be embedded into walls of objects of any construction and the walls can be made of any material, in accordance with the architectural project of the building.
System details:
Profiles width 51 mm, which offer greater latitude on the level's Project as well as during investment's realization. Width 6 mm larger than this generally used on the market.
Glass systems with thickness from 3 to 38 mm are installed in casements' notches with using special glazing beads made of aluminum profiles. The glasses are additionly sealed with the packet of gaskets.
The elements of aluminum Econoline window's system are compatible with other systems Aliplast firm, i.e. in every kind of windows can be used the same glazing beads, gaskets, corner shalls and fittings.
It's possible to use INNERWALL subsystem, which is perfectly suitable in terms of designing office installation. This subsystem it's an empty frame, which is filled with varnished aluminum moulding. The installation of interior blinds is also possible.

We offer our customers aluminum doors in the same profiles' construction as the aluminum windows have in the Ekoline system.

Ekonoline without thermal isolation (so called cold aluminum).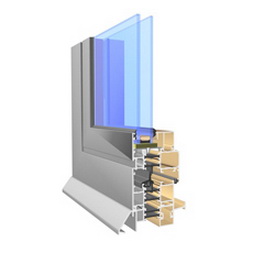 Aluminum windows in Imperial system (so called warm aluminum) are used to construct different types of school windows glazed with insulated glass as well as with single glazing. Windows in this system can be tilt-turn, bottom-hung, tilt, tilt-slide. It's possible to create windows and revoling doors with horizontal and vertical rotation axis.

Imperial system is 3-celled. In its profiles is installed thermal separator with 24 mm width, made of polyamide reinforced with fiberglass and it's additionally equipped in vein sealing Coex. This vein creates reliable isolation and perfect sealing during the process of flame-cutting varnished profiles.

Large width of profiles, 65 mm (width of windows' and doors' frames, bars, door leaves) and 75 mm (width of casements) and thick profiles' partition (1,7 – 2,0 mm) has impact on the high stiffness and large profiles' static, which enables constructing windows in bigger sizes.

The advantage of the aluminum Imperial window is the possibility of choosing appropriate casement to the seize of the window (system ensures variety of types of windows frames and casements).

Quality fittings (contain the standard EURO) makes the Imperial windows system is very modern and universal.
Aluminum doors offered by our firm are based on the same profiles' systems as aluminum Imperial windows are.